6 march 2017
DEAR GUESTS AND PARTICIPANTS OF THE
X INTERNATIONAL EXHIBITION OF BOATS AND YACHTS
MOSCOW BOAT SHOW!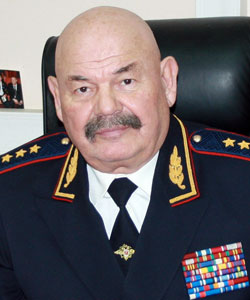 Let me on behalf of the All-Russian Society of Rescue on Waters congratulate you with the opening of the International exhibition Moscow Boat Show 2017. The best technical achievements, equipment and services for the organization of rest of Russian people on water are annually displayed within the frames of the show.
I am confident that interesting discussions on the platform will promote strengthening of business contacts, increase in safety and cost efficiency of the marine industry, enhance the international prestige of the industry industries.
I wish you all success in work, fruitful ideas, interesting creative and business contacts.
Petr Nelezin,
Colonel General,
Chairman of Central Board of VOSVOD of Russia,
President of the Russian Federation of life serving